Maximize Summer Giving in Your Church.
Apr 23, 2018 |
3 min read
June, July and August have traditionally been challenging months for most church budgets. Now it seems that Mother's Day often signals the start of a "summer slump" in many churches. The number one factor triggering the summer slump in giving is decreased weekly church attendance.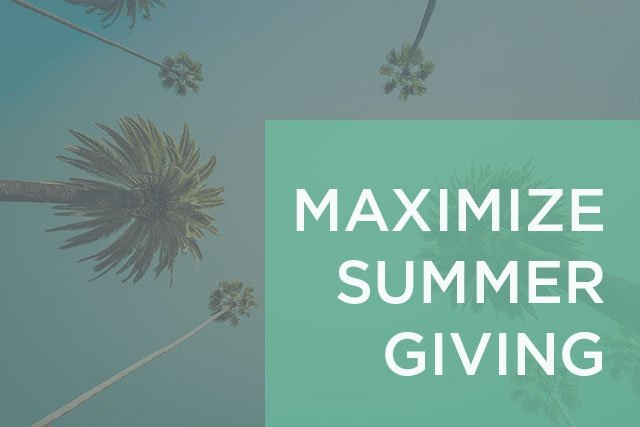 There was a time when most families took a vacation for a week or two and, except for those weeks, their church attendance would be consistent. Today, summer is not just a time for family vacations; it's a time to relax and slow our lives down. Sports, parties, family gatherings all seem to fall on Sundays these days. Unfortunately, many people think the priority of church attendance comes second to these events in the summer.
Here are a few things you can do now to maximize summer giving in your church:
Talk about it. Since the number one factor effecting income the most is consistent attendance, regularly mention the importance of making church a priority. One of the benefits of regular church attendance is the message it sends to our kids. Encourage families to simply say, "No," to things that keep them away from church.
Promote online giving. You may even consider having someone demonstrate how easy online giving is. If your current vendor for online giving is not user friendly, then it's time to find one that is. Be sure to emphasize the option to set up recurring giving. Consider adding a line on your giving envelopes that says, "I gave online."
Thank those who faithfully support the church. People want to know that their giving is used wisely and is appreciated. For many people the only communication they get from their church regarding their giving is a year-end statement. Give $100 to a charity and in the blink of an eye you will be thanked. Give $1,000 to that same charity and you'll most likely have a personal contact from someone at the charity. Remember also to thank those that give online. If a family gives before they leave for vacation, during their vacation or catch up when they get back – make sure you let the congregation know how encouraged you are by such faithful partners.
Lead by example. Let the congregation know that you were faithful to give even while you were away on vacation. Tell them exactly how you did it; online, gave before you left, mailed it in, etc. One Pastor actually Skyped during the service and showed his family giving online.
Demonstrate that lives continue to be changed. Yes, the electric bill needs to be paid even in the summer but that doesn't motivate too many people. Every week the congregation needs to hear about what God is currently doing in people's lives. Connecting the stories of life change to the congregation's generosity will help keep the reason for continued giving fresh in people's minds and hearts.
There can be a tendency to ease up in the summer and some easing may be healthy. The other extreme is to relax to the point that we send a message that church is not the same priority in the summer as the rest of the year thus affecting attendance. Attendance is the key – low attendance, low offering – so make sure to inspire consistent church attendance in your congregation.
If you would like to speak to one of our Generosity Strategist about how to maximize summer giving, please contact us or give us a call at (800) 233-0561.
Enjoyed this blog post? Share it with your friends on: